Fashion month may have drawn to a close and the last of the weighty September issues taken from the magazine shelves, but the spotlight on fashion hasn't ended there. This week saw the opening of the sixth Dutch Sustainable Fashion Week (DSFW), an event with focuses including textile innovation, circular design and showcasing new design talent. It is one of a few fashion weeks around the world that wholly centre on sustainability.
But, why is this? Do we need them? Shouldn't sustainability be fundamental to all fashion?
*DSFW runway with Tim Dekkers & Weiyu Hung
It is definitely no secret that the global fashion industry has a destructive impact on our environment, is a producer of large amounts of waste and a contributor to climate change. As consumers, we are now more aware than ever before about the eye-watering levels of carbon emissions released by the industry, the vast amounts of clothing that end up in landfill each year, or the questions raised over how and who made the garments we wear. Whether it's luxury houses such as Burberry making headlines in 2018 confirming millions of pounds worth of unsold stock was burned, a practise they have since ceased, or the thousands of litres of water needed to produce a pair of jeans, we are questioning what was once considered standard. Expectations are shifting as demand grows for brands to change their negative practices, reconsider their supply chain and the use and continuous extraction of raw materials.
Is a Sustainable Fashion Week the answer? The concept could be considered an oxymoron, the very notion of a Fashion Week itself being the pinnacle pusher of consumption. So, what makes it different? This concept was an original platform for greener solutions in the industry opening the dialogue about what goes on behind the scenes; a hotbed of innovation, highlighting the pioneering work of change-makers and providing exposure to designers rethinking the norm and tackling some of fashions biggest issues. Designers taking on these topics include Tim Dekkers, Sharita Karsten and Weiyu Hung who each presented their collection at the DSFW Future Fashion Show in Amsterdam. Dekkers showed an elegant and feminine collection constructed from natural materials such as tree bark and unbleached cotton. Karsten caused the viewer to question how we consider waste by presenting looks made from plastic, old clothing and paper. Hung married sustainable approaches such as using coffee grounds for painting materials or fabrics made from recycled plastic bottles with delicate craftwork such as crochet. All three designers proved collections can be beautiful and have a conscience.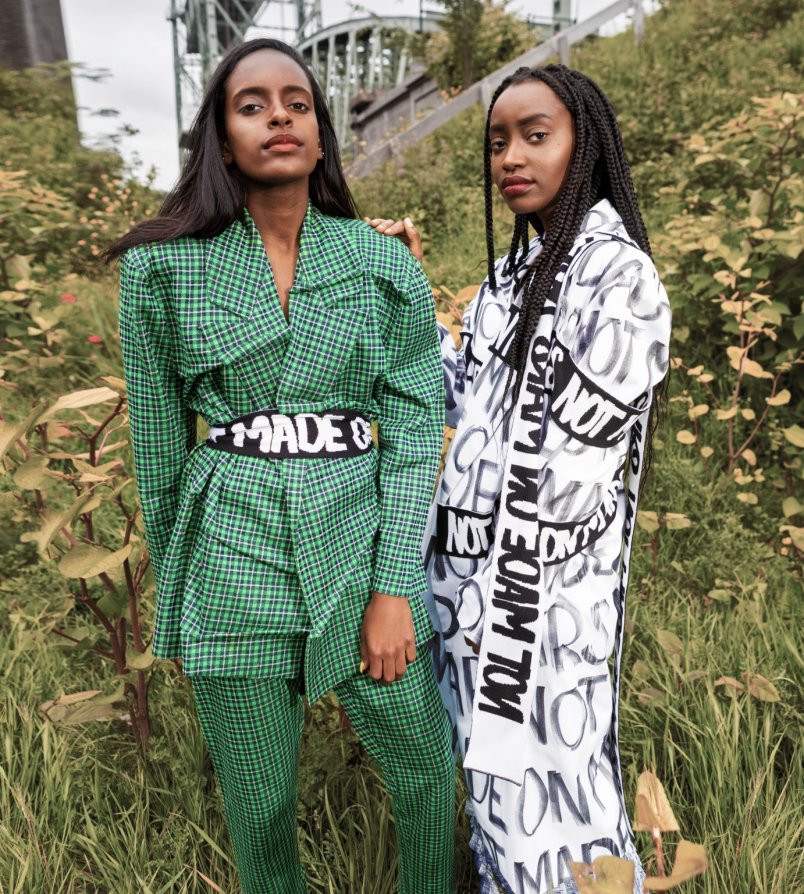 * from designer Sharita Karsten
Times have changed since the first Sustainable Fashion Weeks opened their doors and for the better. With voices like Greta Thunberg being echoed and supported across the world, sustainability is staying at the forefront of the mainstream conversation, encouraging necessary change and action. As fashion has always provided a commentary on the pulse of the moment, this transition is welcome and taking hold also in the traditional Fashion Weeks. Stella McCartney continued to provide inspiration that to be sustainable and a serious luxury fashion house is not mutually exclusive, with 75% of the materials used in the Spring Summer 20 show counting as eco-friendly. The British Fashion Council Designer Exhibition rooms during London Fashion Week were themed "Positive Fashion" offering a space for new talent to showcase their work, which centred on sustainability and ethics. Simultaneously in September, they announced the launch of the Institute of Positive Fashion (IPF) with the goal to expedite positive, sustainable change within the industry. Gucci announced they are now carbon neutral across their supply chain and committed to offsetting the carbon footprint of the guests attending their Milan show. While still far from the norm, sustainability and the brands embracing it were noticed throughout each of these main weeks with designers using recycled materials, vegan alternatives and up-cycling methods.
*from Tim Dekkers collection
But is it all enough? In short, no!
While these changes are positive, there is a long way to go. We urgently need more daring and greater pushes in the advancement of sustainable and greener practices within the fashion industry. Considering their current influence on fast fashion we could hope that Fashion Weeks are in the enviable position to inspire the needed change across the industry including in the production of garments, how it is shown and how we consume it. This is the time for a much-needed redesign of the rulebook where all aspects are considered, whether in the carbon footprint of travel to these events or the use of extravagant catwalk backdrops. We need traditional Fashion weeks where not only the brands who choose a greener model are sustainable but ones where every show on the schedule fits a criterion necessary for the positive future of our planet and the people on it. Environmentally friendly practices and inclusivity are the minimum standards to be met. We need brands where sustainability is rooted in their values since inception to be celebrated and included in the mainstream Fashion Week billings. Until then we will need Sustainable Fashion Weeks as a driving force for change and an inspiration for a better future.
Written By: Lynne Grey
Photo cred: 
https://simplypr.nl/smr/dutch-sustainable-fashion-week/dutch-sustainable-fashion-week-dsfw-oktober-2019.html
https://fashionunited.nl/images/201910/xDSFW-1.jpg.pagespeed.ic.slaS5_KBxo.jpg
https://www.andc.tv/item/actie--win-2-kaarten-voor-de-future-fashion-show-tijdens-dsfw